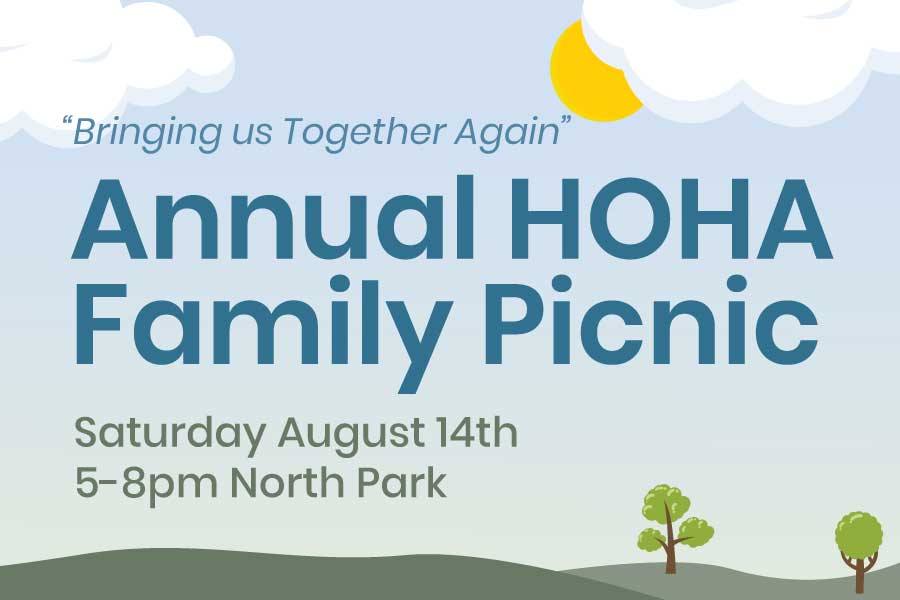 Date
Aug 14 2021
Expired!
Annual Family Picnic
There will be food, games/activities, entertainment, silent auction, and much more.
All current 2021 HOHA Members can attend at no cost. If you would like attend and are not a member, pricing will be:
HOHA Member Guest: $7.00
HOHA Member Grandchildren: No cost
Non-Joining Residents: $14.00 per person
Did we mention when you register online you can skip the long lines? Click the blue register button to get started! Just be sure to watch your email and bring your ticket with you to check-in, digital or print is fine. 
Cornhole Tournament
Want to participate in the cornhole tournament and help raise money for the Youth Emergency Services (YES)? When you register for the picnic you can also register your team. Each team is $10.00 and is open to all ages (adult/adult, adult/child or child/child). The tournament will begin at 6:00pm in the North Park.
Volunteers Needed
We are in need of volunteers to help with the picnic.
1:00-2:00 p.m.-Set up
5:00-6:00 p.m.-children's activities and other duties
6:00-7:00 p.m.-children's activities and other duties
8:00-9:00 p.m.-clean-up
I want to Volunteer
Not a 2021 HOHA Member?
If you are not already a 2021 HOHA Member and want to attend the Annual HOHA Family Picnic for no cost or discounted guest costs we encourage you to sign up for your membership first.
Annual Dues per Household: $40
Membership Term: January 1st – December 31st
2021 Membership
2022 Membership Drive Kickoff
We will be officially kicking off our 2022 Membership Drive. We encourage you to pay your dues ahead of time online.
2022 Membership